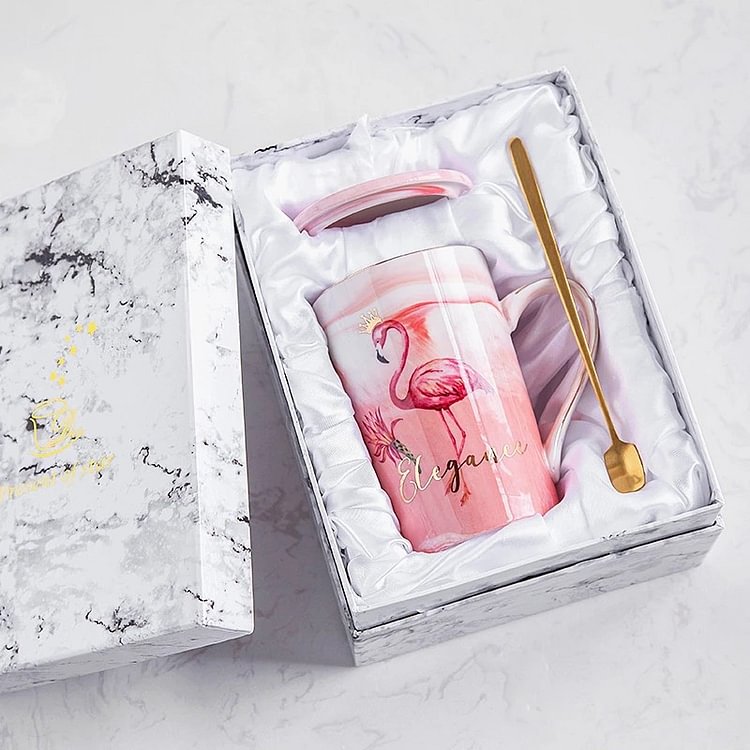 Geometric cup body: The cup body adopts matte texture, non-stick fingerprint technology, highlighting the noble atmosphere, geometric cup body design, the bottom of the cup can be placed stably with a slight tilt, the bottom of the cup is designed without glaze, non-slip and wear-resistant, and the lid is The U-shaped notch is an intimate design for placing the spoon.

Marbling: Since the porcelain clay used in marble products is chromatic clay, the texture of each cup is formed naturally and cannot be controlled by humans. The texture of each cup is unique. This is also the only product with marble. Some characteristics.

High-temperature firing ceramics: The coffee cup has full color, delicate, crystal, smooth hand, firm texture, slow heat transfer, and relatively good insulation effect; ceramic cups are not only safe and healthy, but also resistant to high temperatures and corrosion.

Cup lid design: When not in use, it can be covered to prevent dust, clean and sanitary, and protect the tea from pollution. The inverted lid can be used as a filter tray to avoid wetting the table. The cup cover is designed with an opening, which is convenient for the storage and use of the spoon. The bottom is not glazed to increase friction and anti-slip.

Multi-purpose: These ceramic cups are very suitable for you to enjoy coffee, tea, cocoa, hot chocolate or other hot and cold beverages. It is a great gift for birthday, Christmas, New Year, anniversary, wedding, retirement, engagement, graduation, housewarming or other holidays.
About us

Our brand is based on high quality, sustainability and multi-functional practicality, stylish and exquisite appearance, modern minimalist style can be well integrated into your home environment, our products bring some special things to your home , And add a touch of texture to your daily life.

To fully enjoy a cup of hot coffee or soothing tea, you need a compact and durable cup. Our ceramic coffee cups can help you enjoy a completely satisfying drinking experience anytime, anywhere! It is very suitable for coffee cups, tea cups, milk cups and various hot and cold fruit drinking cups. It can easily meet daily needs.

Good taste comes from good quality
Give your life back to yourself in the time of a cup of coffee;
In the busy time, share the good taste of life.

product information:

Name: coffee cup

Material: Ceramic

Colour: As shown

size:

Caliber: 9 cm

Height: 10 cm

Capacity: 420ml

Craft: Hand-painted gold

Application: Home/Hotel/B&B/Restaurant/Office/Gift/Decoration, etc.

Package Contents:

Coffee cup*1

Cover*1

Spoon*1

Precautions for use:

1. When cleaning, please do not use hard objects such as steel wire to clean it to avoid scratches.
2. Please also try to avoid sudden cold and hot when using, so as not to affect the service life.
3. If there is tea stains, it can be cleaned with lemon juice or vinegar.
4. If there are scratches, use toothpaste to gently wipe the stained porcelain.

After-sales service: Your satisfaction is our greatest pursuit. If you have any questions, please feel free to contact our service team and call our email address. We will solve your problem within 8-24 hours.